When I started graphic design, many years ago, I was eager to know as much as I can about how the professional designers really work. I know that I'm not alone and besides other designer colleges that wonder about the actual design process, I guess that many future or current clients would like to know how I design the logos. That's why I wanted to make a special post about the logo design and branding process to show what's going on behind the scenes.
I will shortly describe each step of the process and, to be more explicit, I included a case study of an actual logo design for a wellness center, Nature Wellness Spa. The spa center is a brand new company and will be opened for public in about two months.
Creating a brand identity and designing a logo involve a lot of work and complexity, but I guess we can distinguish seven steps. These are:
Creative Brief and initial info
Mood board
Font collecting
Symbol collecting
Logo versions
Final logo
Other marketing materials
Each logo design is different and special in its own way so some of these steps can be skipped or merged together. Please don't take these as a must and keep in mind that each designer, each client and each project are different in their own way.
Creative Brief
The creative brief it's a short document that incorporates the most important elements to consider in the design process. Some clients already have a creative brief ready to be sent, while others don't.
In our case the client didn't have the brief so I've sent him a small list of questions regarding the company details and brand info to which he had to answer as short as possible (that's why is called brief). The most important elements extracted from the answers were:
Brand Name: Nature Wellness Spa
Type of logo: Text and symbol combination (hand drawn element) with watercolor texture
Clients: young women interested in organic spa treatments and looking for a quiet and elegant location
Keywords (brand attributes): organic, fresh, peaceful, modern, elegant
Main Colors: green and teal
Competition: Here you have the competition logos
Mood board
The mood board consists in gathering photos, patterns, textures and other graphic elements that visually communicate the brand attributes. This board is an inspiration source for the whole design process. By looking at the logo the clients should feel the same way they feel by looking at this moodboard.
Here is the mood board I created considering the Nature Wellness Spa brand attributes.
Font collecting
Typography is a key element in every logo. The fonts used in logo should follow the brand attributes. I try out a lot of fonts but I filter them, so I move on with only three or four variations, which I consider the best.
Here are the font variations based on some of our brand attributes (organic, modern, elegant).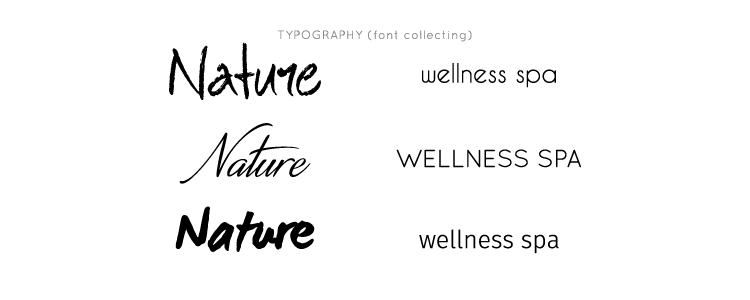 Symbol collecting
If the logo contains symbols, they are usually vector elements. We can have all kinds of symbols: geometrical, abstract, hand drawn, etc. Just like when choosing the font, I create many sketches, but I choose only the best to bring into Illustrator and include in the logo versions.
For Nature Wellness Spa I used hand drawn elements that incorporate an organic and fresh feel.
Logo versions
At this point I start to mix the fonts and symbols creating different logo versions which I presented to the client for review. The client chooses one of the logos, the one he considers best for the brand. The logo is not final and usually will go through one or two rounds of revisions.
These are the three logo versions sent for review to my client.
Final logo
This step implies a lot of back and forth communication with the client and successive revisions to the previously chosen logo. After the logo is final I make a brand board which contains the most important elements of the brand. The brand board offers some basic guide lines for future designs (website, business cards, flyers, marketing collaterals, and so on).
In some cases the clients also request a brand guide which is a more specific document with clear instructions on how to incorporate the logo in designs (including dos and don'ts).
Getting back to our case study, here you have the final logo and the brand board for Nature Spa.
Nature Wellness Spa Brand Board
Other marketing materials
After the logo is done we can move on with marketing collaterals, business cards, letter heads, and so on.
In our case the client only wanted a business card design, leaving the rest for later on, when the list of services to offer will be complete and the location will be almost ready to welcome the clients.
Here ends this post about brand identity and logo design process. Thanks for reading! I hope you enjoyed this peek behind the curtains.
If you have a project inquiry or you want my collaboration, feel free to contact me using the Contact page.